Home fire safety visits
Making sure home is a safe place is important for everyone, especially if you have a long-term health condition or dementia, a young family, are an older person or a smoker.  
One way to help make your home a safer space is to request a free home fire safety visit from one of our firefighters or Safe and Well officers.
These visits are available to any of our customers who may have particular needs or priorities. 
Check if you are eligible for a home fire safety visit
Free home fire safety visits are available for to anyone who:
Get in touch 
Use the referral form below to arrange a home fire safety visit or discuss any concerns you may have. Alternatively, you can speak to our home fire safety advisors on 0800 923 7000 (Monday to Friday 9am to 5pm, voicemail outside these hours). This call is free from most home and mobile phones, but please check with your phone company for confirmation.
If you receive an unexpected visit from Kent Fire and Rescue Service…
Kent Fire and Rescue Service (KFRS) is dedicated to helping the people of Kent and Medway live safer lives. Part of our work includes visiting customers in their homes, providing advice on fire safety and helping them to stay safe.
As well as offering appointments for home safety visits, we also go out into the community and visit homes without an appointment.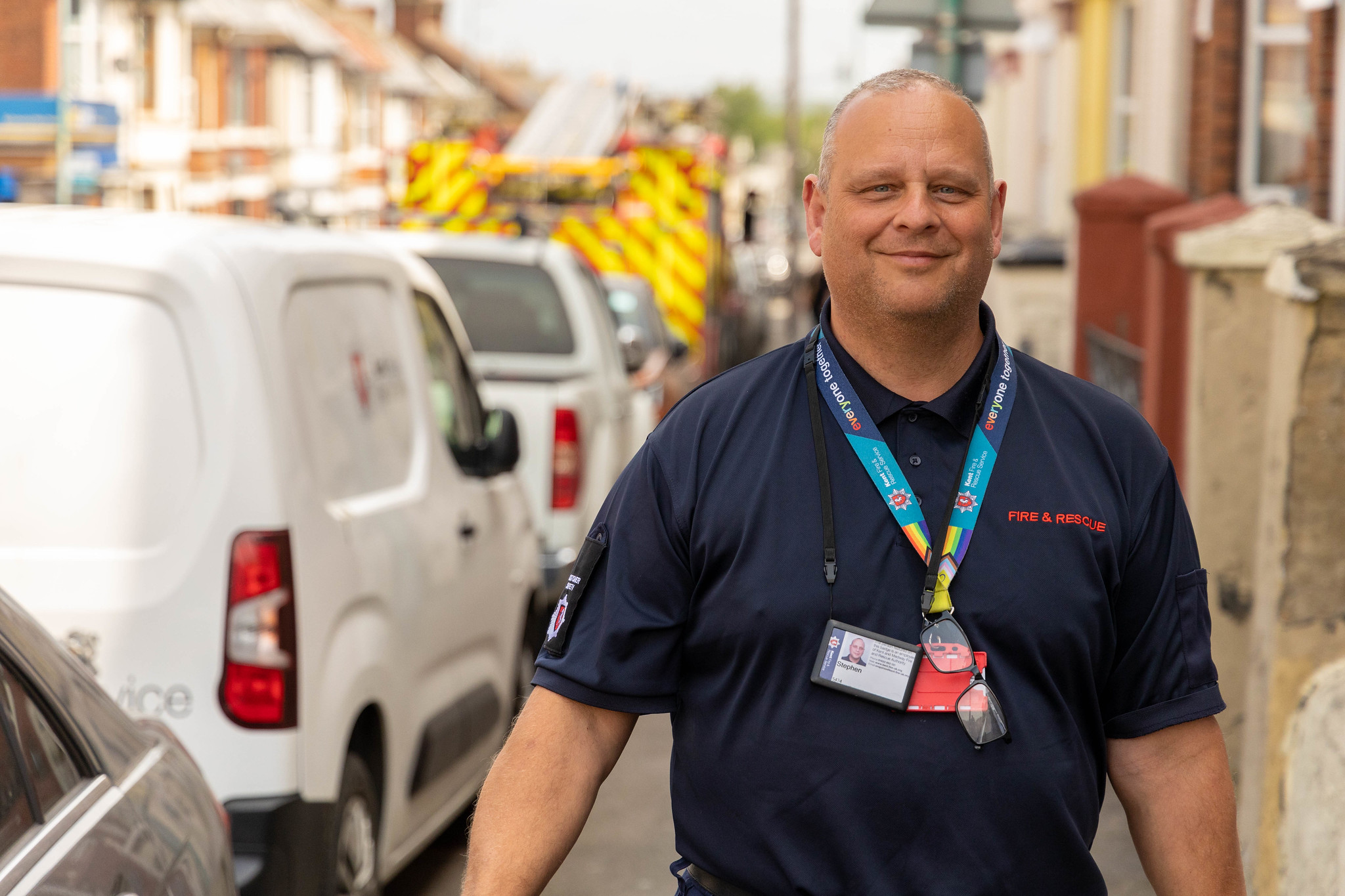 If you have an unexpected visit from Kent Fire and Rescue Service, please remember that all our officers will:
be wearing a KFRS uniform
have a KFRS photo ID card clearly on view
have a white KFRS branded van parked nearby, or a red fire engine
may work alone or in pairs
never ask for money or your bank details - our services are free including any battery alarms if required
never enter your home without your permission
will wait outside if you would like to verify their identity first
Still unsure?
How to verify the caller's identity
To verify the identity of a visitor who says they are from Kent Fire and Rescue Service, ask them to wait outside, close the door and simply call us on 0800 923 7000 or our main switchboard on 01622 692 121 which is open from Monday to Friday 9am to 5pm.
Remember – if you receive a visit outside office hours when you cannot verify the caller's identity with us…
and you cannot see a KFRS fire engine nearby, decline the visit on the doorstep and do not admit the caller. Request they come back during the week and phone us to verify their identity before admitting them.
If you're not eligible for a home fire safety visit...
why not try the Home Fire Safety Check tool from our partners at Safelincs, supported by the National Fire Chiefs Council (NFCC). By answering a few simple questions, you'll get tailored advice on helping to keep yourself, your family and your home safer from fire.
There's also lots of helpful advice and information on our A-Z of Home Safety page, where you'll find further information on how to stay safe at home ranging from barbecues to DIY safety.
Take the Home Fire Safety Check