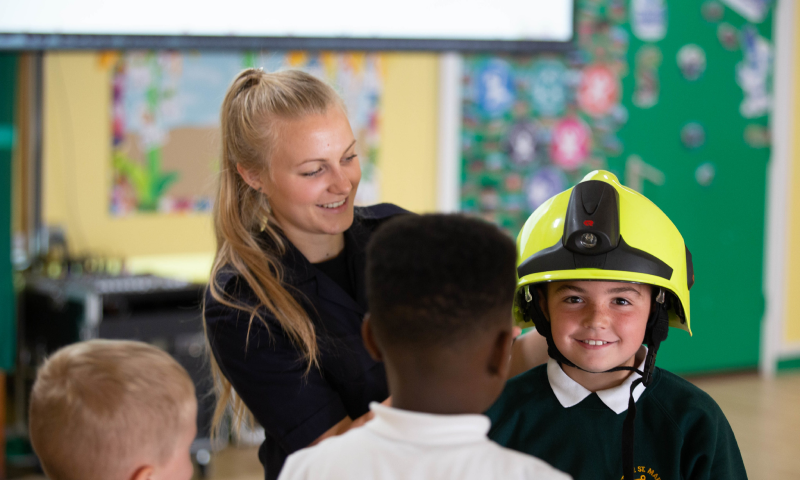 Saving lives – creating a safer future
Together with our customers, we work to make our county even safer, helping people in their homes, places of work and education to lead safer lives.
Business safety
Business safety advice
If you run a business or are a 'responsible person', you have a legal duty to ensure your business complies with the Fire Safety Order. Learn about your obligations and how our Business Safety Team can help and advise.
Tell me more
Fire risk assessments
Businesses are legally required to carry out a fire risk assessment. The type of assessment you need will depend on your type of business. Learn what you need to do and how we can help.
Understand fire risk assessments
The law
The Regulatory Reform (Fire Safety) Order 2006 (the 'Fire Safety Order') requires all businesses to carry out and maintain a fire risk assessment. Kent Fire and Rescue Service will inspect your premises to check that you have carried out an assessment and complied with the Fire Safety Order.
What do I need to know?
Fire alarms
Businesses must have appropriate fire safety precautions in place, including fire alarms. Learn about the requirement for alarms, reducing false alarms, and automatic fire alarms.
Check out our alarms section
High rise buildings in Kent and Medway
Following the Grenfell fire in June 2017 and other high profile incidents, the government launched an initial Building Risk Review.
Tell me more
Road safety
Kent Fire and Rescue Service attend around 1,000 road crashes every year, often having to cut victims free from wreckage. This is why we work closely with partners including other emergency services to help reduce the number of crashes and deaths. From educating young drivers to road safety for bikers, learn more about what we're doing to help drivers stay safe.
Read more about road safety
Water safety
Learn about Kent Fire and Rescue Service specialist water rescue crews, who is at risk and what you can do in an emergency.
I want to know about water safety
Fire hydrants
Fire hydrants can be found on pavements, roads or in public spaces. They provide the water essential for firefighting which is why it's so important to ensure they are maintained and working.
Discover more about hydrants
Seasonal safety
From keeping warm and driving during the winter, to staying hydrated and barbecuing safely in the summer, learn what you can do to help yourself and others stay safe.
Tell me more
Flooding
Be 'flood prepared' – learn what to do and who to contact in the event of a flood
Be flood prepared