Seasonal safety
From keeping warm and driving during the winter, to staying hydrated and barbecuing safely in the summer, learn what you can do to help yourself and others stay safe.
Extreme weather - who to call and what to do
When there are storms, high winds or bad weather, please remember ...
help us to help you by familiarising yourself with the relevant services you might need. If there is an immediate risk to life, always call 999. 
as with any storms or bad weather, always follow the relevant advice as issued by our partner agencies, including the Met Office, and to follow any travel guidance. 
if you do need to go out, please carefully consider your travel plans as disruption may be expected on the rails and roads. Most importantly, drive appropriately to match the weather conditions. Keep yourself and others safe by driving responsibly. 
if you have vulnerable neighbours or loved ones, please check-in on them and make sure they're ok.
if you are experiencing a power outage, you can contact UK Power Network for help and advice by calling their free 105 helpline. 
We have robust contingency plans in place to ensure we have the appropriate staffing and resources to respond to emergencies and keep people safe. If there is an immediate risk to life, then please call 999. If there is no risk to life, then please call your local authority. 
Winter safety
1. Keep warm
Heat your home to at least 18°C (65°F). You may prefer your main living room to be slightly warmer. Keep your bedroom window closed on a winter's night. Breathing in cold air can increase the risk of chest infections.
2. Get financial support
There are grants, benefits and sources of advice available to make your home more energy efficient, improve your heating or help with bills. View the Keep Warm Keep Well booklet on the Public Health England website to learn more.
Kent County Council and your local district council may also be able to help with the cost of boiler replacement or insulation through the Warm Homes Scheme.
3. Look after yourself
contact your GP to get your free flu jab if you are aged 65 or over, live in a residential or nursing home, or are the main carer for an older or disabled person. NHS choices provides information about flu. Visit www.nhs.uk/flu to learn more.
don't delay in getting treatment for minor winter ailments like colds or sore throats. Visit your local pharmacist for advice on treatment before it gets worse so you can recover quicker.
layer your clothing whether you are indoors or outside. Wrap a scarf around your mouth to protect your lungs from the cold air.
wear shoes with a good grip if you need to go outside.
when you're indoors, try not to sit still for more than an hour or so. Get up, stretch your legs and make yourself a warm drink.
have your heating and cooking appliances checked by a gas safe registered engineer to make sure they are operating safely.
contact your water and power suppliers to see if you can be on the priority services register, a service for older and disabled people.
for more information about how to stay warm and well in winter visit Age UK's website www.ageuk.org.uk/winterprep or download this guide.
for non-emergency health advice, call 111
for more winter wellness tips visit www.nhs.uk/keepwarmkeepwell
for information about health services in Kent visit www.kent.gov.uk/health
4. Stay safe in your home
When the temperature drops care needs to be taken not to increase the risk of having a fire in your home. This can happen with greater use of portable heaters and open fires.
The most important thing you can do is make sure you have working smoke alarms on every level of your home.
Call us today for your free home safety services - 0800 923 7000 (or email your contact details to  home@kent.fire-uk.org)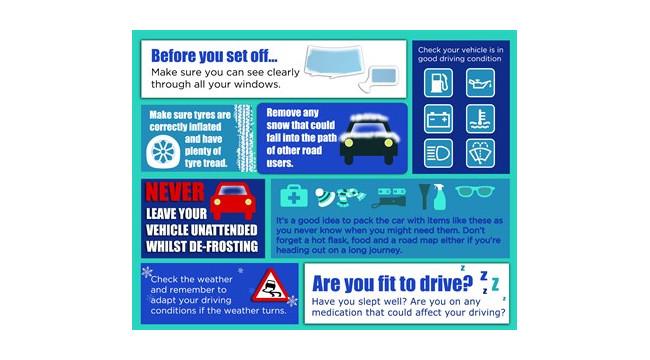 Winter road safety
Winter driving checklist
Many of us know the importance of road safety and will drive carefully. However routes we use regularly where driving can become second nature, can be unpredictable in the winter and we can get caught out.
Driving conditions change quickly with snow and ice, heavy rain and poor visibility on the roads. We'd like you to take extra care when planning your journey and adapt your driving style to suit the road conditions.
We'd like to help you keep safe when you're on the roads over the winter - always ask yourself if the journey is necessary!
Preparation and adaptation is important
Here's a useful check list of things to consider before you venture out this winter:
Things to have in your car for emergencies:
ice scraper and de-icer.
torch and spare batteries.
boots and warm clothes and blankets - for you and all passengers.
first aid kit.
jump start cables.
food and a warm drink in a thermos.
shovel.
reflective warning sign and high-visibility vest.
road atlas.
mobile phone and charger.
Before setting off please consider these:
have you cleaned all windows and wing mirrors using a scraper and de-icer?
do you have enough screen wash?
is there snow on the top of your car? (Breaking sharply could cause snow to slip down and obscure your view).
check exterior lights – are they clean and working?
check that your vehicle is equipped with a hi-visibility vest and warning triangle.
carry a mobile phone in case you encounter any difficulties during your journey - but keep it in the glove box! More drivers are using car journeys as an excuse to switch phones off!
allow for extra travelling time in tricky weather conditions, listen to weather forecasts.
ask yourself 'is the trip really necessary?'
When you're driving in difficult weather please consider:
always use the seatbelt
using dipped headlights in poor visibility.
driving slower compared to 'normal' driving conditions.
keep a safe stopping distance behind the vehicle in front.
it takes much longer to stop in wet or icy conditions.
avoid distractions – especially your mobile phone
avoid harsh braking, acceleration and steering.
keep a careful watch out for other road users especially motorcyclists, pedal cyclists and young pedestrians.
if you get into trouble, try not to abandon your vehicle, stay with it until help arrives.
if you are forced to leave your vehicle make yourself visible by wearing a high-visibility vest.
Summer safety
Whilst many enjoy the summer heat, for some it can leave them extremely vulnerable
drink plenty of water to keep hydrated.
keep out of the sun between 11.00 and 15.00 - the hottest part of the day                  
avoid any strenuous activity   
make sure you look after those most at risk - older people and small children.
wear plenty of sunscreen, the higher factor the better - ask your pharmacist about the best protection for your skin type
Could you check in on a loved one or neighbour?
Those who are elderly, very young, or anyone living with a health condition, may find hot weather particularly challenging. You can always pick up the phone, make a video call, or pop round to check on your loved ones or neighbours, especially those who live alone.
Show you care and make sure they have everything they need to stay cool, safe and well - all while observing social distancing guidelines, of course.
There are a whole host of hazards associated with the warmer weather and drier conditions which can all lead to greater demand on emergency services. These can range from barbecues to grass fires. You'll find useful advice and information on how you can help to prevent fires like this on our website.