Fire safety and businesses
Businesses have a legal duty to ensure their premises are safe for everyone who uses or visits them. If you own, run or are a responsible person for a business, Kent Fire and Rescue Service are here to offer you help and advice on understanding your responsibilities and how to take precautions, minimise the risk and meet the legal requirements.
Latest updates...
Safer Care Service for health and care premises
Our Safer Care Service initiative has been designed and developed by us to help reduce risk in health and care premises and keep such businesses safe and resilient. We will also be offering seminars for responsible persons and owners of care premises during November - you can learn more and book your seminar place on our new Safer Care Service page
---
Reinforced autoclaved aerated concrete (RAAC) 
Some schools in Kent have been found to have RAAC used in their buildings. This lightweight concrete was used in building construction from the 1950s until the mid 1990s. Further information can be obtained from the Local Government Association and .Gov . Kent Fire and Rescue Service are working with local authorities to understand the extent of RAAC across Kent and Medway. As a fire service, our focus is on understanding the risks linked to the building material so we can respond effectively in an emergency. 
If you are aware of any buildings or structures across the county that contain RAAC, please email the information to us at riskinformationteam@kent.fire-uk.org. This will help us to understand where RAAC is and to include the information in our response planning.
---
The Building Safety Act 2022
The new Building Safety Act 2022 became law on the 28 April, 2022 and amends the Fire Safety Order. These changes will come into effect this autumn and relate chiefly to the duties of Responsible Persons. They apply to all buildings including non-domestic buildings, businesses and most public buildings.  Learn more on our Building Safety Act 2022 page
The Fire Safety (England) Regulations 2022
These Regulations came into force on the 23 January 2023. Some of the actions Responsible Persons (RP) will now need to take will depend on the height and type of building. Learn about the new requirements - including how to submit your documents - on our High Rise page
Cost of Living and your business
Check out our new page on Businesses and the cost of living. Whether you're considering changing the type of heating you use, altering your premises, or any other change, you'll  find  advice and information to help you and your business Stay Fire Safe 
If your business has a fire
After a fire, there will be a lot to think about and do. For business owners, responsible persons and building owners there are additional factors to consider. Take a look at our new 'If your business has a fire' page for further information 
See below for more information ... 
What do you want to know?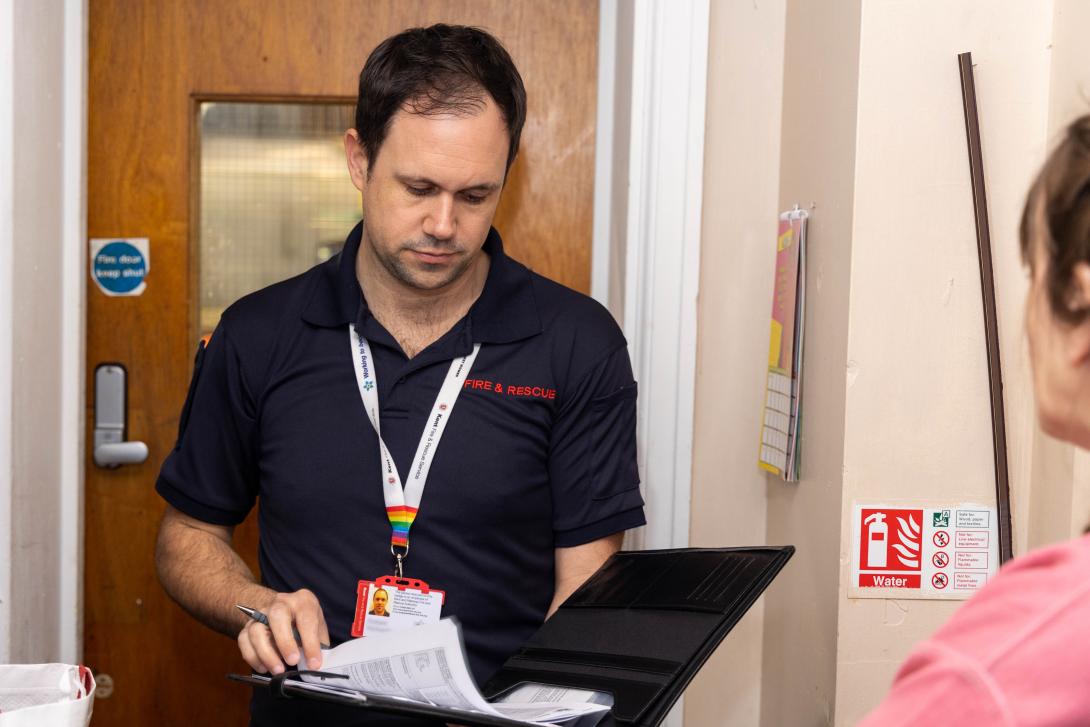 Primary Authority Partnerships
A Primary Authority Partnership is a legally recognised partnership between a business and Kent Fire and Rescue Service (KFRS). The partnership provides the business with assured tailored advice which is respected by other enforcing authorities.
Learn more on our Primary Authority Partnerships page.
Primary Authority Partnerships
Need help? Contact us
If you have  questions or need advice or guidance, our Business Safety Team are here to help with free, friendly advice on making your business or regulated building compliant with fire safety regulations.
Business safety helpline
Public event safety enquiries - advice and information for public event organisers
Building regulations consultations
Enquiries for the general public and approved inspectors on planning matters and building design:
Please note: Any electronic consultation submission to us via email is restricted to a maximum file size of 35 megabytes including attachments and should not contain Zip file attachments.