Be Halloween smart with the Byrnes family
31 October 2018
Families, Community
As families and young children across Kent and Medway prepare to get dressed up for trick or treat activity this evening, Kent Fire and Rescue Service (KFRS) has released a Halloween animation with some seasonal tips so everyone can be #HalloweenSmart, to ensure it's Spooktacular fun.
KFRS' The Byrnes family will be following the tips and there's also a page on their website packed with fun and games for children to do after they've done their trick or treating this evening.
Halloween and firework safety tips:
Wearing gloves when holding sparklers and never picking them up after you have finished with them is smart thinking.
Using battery operated candles in your pumpkin lanterns is safe but it also means they won't blow out.
Be smart by keeping a safe distance from bonfires and fireworks and remember to look after pets and wild animals too.
Having a grown-up as part of your trick or treat fun means you'll be safe and be seen.
Check to make sure your costume is flameproof and not made of things that easily catch fire, like bin liners.
Attending public firework displays is smart - it means bigger and longer displays.
KFRS is reminding parents to check their little one's costumes, and to make sure they're aware of the dangers associated with flammable fancy dress costumes and the risks presented by an increased use of candles during Halloween celebrations.
The National Fire Chiefs Council (NFCC) has issued this advice about costumes:
Look at the labels – Labels attached to the product should show a CE Mark which means it complies with EN71-2. This means it has met with the European flammability resistant requirements for toys.

You may wish to also look for swing labels which indicate the costume has undergone BRC's additional tests. It will say "This garment has undergone additional safety testing for flammability" which is reassurance the costume is safer than legally required under EN71.

Buy from a reputable retailer – cheap or imported costumes may not meet UK safety standards and at worst may carry fake safety labelling.
KFRS Community safety Group Manager Leanne McMahon said: "Many children will already have their spooky costumes, but we really want parents to make sure to check the labelling and ensure they comply with fire safety regulations. But also that children wearing costumes are kept well away from any naked flames, whether from a tea light in a pumpkin, or a gas, electric or open fire."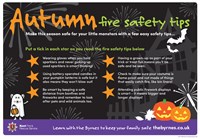 She added: "The Byrnes family is a great way for us to get some really important family safety messages out across Kent and Medway. The advice is very straight forward but through the animation it's really engaging youngsters. Throughout October we've been visiting schools and hospitals to help make this season as safe and as fun as it can be for everyone. The Byrnes family website has lots more animations, games and puzzles for children to enjoy and learn to 'Be Smart' about safety."
The Byrnes family website is packed with fun, games and animations for youngsters to enjoy and some great ways for them to learn how to 'Be Smart' about safety at home, outside and near water.