KFRS hosts virtual Embracing Difference Together conference
05 February 2021
Public, Community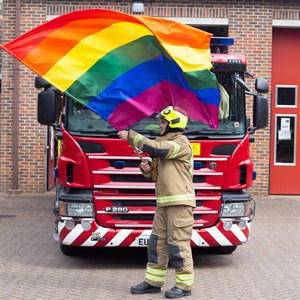 More than 250 emergency service staff from across the UK joined Kent Fire and Rescue Service for a virtual morning of learning and sharing of emotional personal experiences, around the challenges faced by the LGBT+ community.
The service hosted the Embracing Difference Together conference via Microsoft Teams on Wednesday, 3 February, with a of variety speakers including a TV star, a priest and an LGBT+ human rights campaigner.
The event described by participants as 'hugely inspirational, informative and insightful' set out to highlight how we can all drive positive change to ensure everyone is able to bring their full selves into the workplace without fear of prejudice. 
Ann Millington, Chief Executive at Kent Fire and Rescue Service, said: "We were really proud to host a virtual Embracing Difference Together conference for people from a wide range of organisations across the country, including a number of other fire services.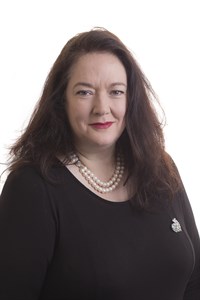 "It was an educational, inspirational, and emotional morning from which we hope participants learned a lot. It was an opportunity to understand how we need to keep making our services accessible to everyone, and the challenges that face the LGBT+ community. We also heard personal stories and received advice about what we all can do to embrace difference. 
"Together we laughed, we cried and I feel like we all came away with a sense of empowerment to keep driving positive change forward.
"I'd like to thank all of the amazing speakers for their time – their expertise and their open and honest personal stories changed how we see the world." 
Guest speakers
Speakers from a range of backgrounds brought the event to life with their expertise, passion and real life stories:
Ann Millington, Chief Executive at Kent Fire and Rescue Service (KFRS)
Jonny Bugg, Head of Fire Strategy and Reform Unit and a Deputy Director at the Home Office 

Valuing Difference Developing Talent

Stuart Downs, Chair of KFRS' LGBT+ Network

The value of the LGBT+ Network

Jim Glennon, Opening Doors London
Mani Cook, KFRS Area Manager and member of the KFRS LGBT+ Network
Drew Dalton, Senior Lecturer in Sociology at the University of Sunderland 

The invisibility of bi-sexuality

Reverend Sarah Jones, Anglican priest 

Trans Issues: The realities, questions and some of the answers

Shilla Patel, Inclusion Manager at LFB 

Changing Hearts and Minds

Heather Peace - Actress and musician