What we do
We are Kent Fire and Rescue Service.
Every minute of every day, we are here to save lives and make our county even safer. We are a forward thinking, modern fire and rescue service with a long and proud history. Together with our customers we are creating a safer future for Kent and Medway.
Helping to keep people safe in their homes, where they work and in places of education. We are there for our customers in times of need – whether it's a fire, a road crash or a water rescue.
Every one of us helps to save lives. We are one team. Together, we are Kent Fire and Rescue Service.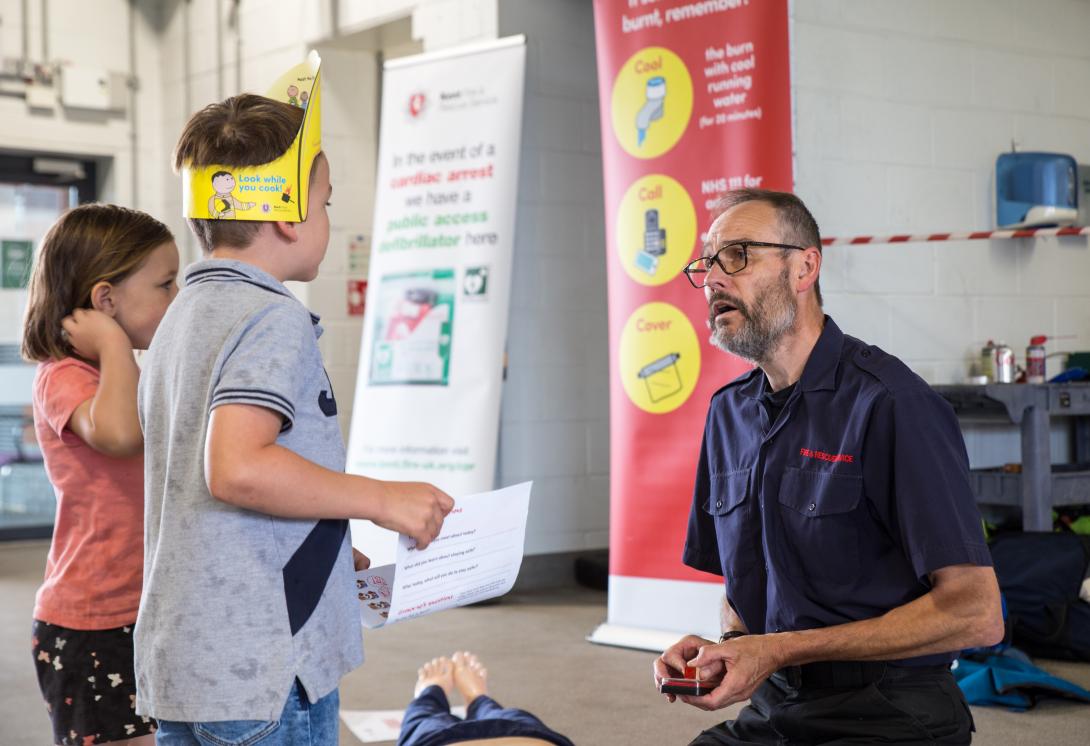 Our customer promise
Everyone at Kent Fire and Rescue Service works together as one team to keep the people of Kent and Medway safe. This promise sets out our commitment to all our customers as we work with them to create a safer future for Kent and Medway.
To provide excellent services
Our team works round the clock to keep customers safe, attending emergencies including fires, road crashes and water rescues.
Together with our customers we help make buildings, homes and businesses safer for everyone.
We are dedicated to helping our customers to lead safer lives through education.
We help everyone to live safely in their own homes whatever their needs, by supporting and sharing advice.
To work with you to keep improving
By listening to our customers and each other we can improve the service we give.
By being flexible and innovative, we continually adapt and improve.
If things don't go to plan, we listen and act quickly, supporting learning and development.
To provide personalised and accessible services
We will make sure we can be easily contacted, and that our services are always accessible for all customers.
We are there for everyone, whoever they are, respecting and considering every individual's needs.           
From our fire control operators to our firefighters, we will employ a diverse workforce, that looks and feels like our communities.
We will design our services with customers, involving everyone to help make life safer across Kent and Medway
Our commitment to help and protect our customers includes making sure everyone knows what we do and feels able to ask for help.
To maintain your trust 
As a public service we will be transparent, welcome feedback from our customers and use evidence to help us shape our services.
Our customers' interests and safety remain our primary focus, and we will never knowingly mislead.
We listen and communicate clearly, with understanding and sensitivity.
All funding paid through taxes is used wisely and economically, enabling us to work efficiently and to help our customers.
We are striving to deliver environmentally sustainable services.
We make sure our staff are aware of and understand their safeguarding responsibilities.
Everyone's privacy and personal data is respected and protected.
We ensure everyone in our team has regular and necessary training and equipment to keep them and our customers safe.
Our services
As well as responding to emergencies across the county, Kent Fire and Rescue Service work together with the people of Kent and Medway to help them stay safe in their homes, businesses and on the road.  
Home safety 

We offer free Home Fire Safety visits to customers who are over 70, have long-term health issues, dementia, are pregnant or have young children, or who smoke. During these visits we provide fire safety advice and identify any potential risks, test smoke alarms and install new ones where needed, discuss escape routes and more, to help our customers feel safe and well at home.  
 
We organise events including family open days at fire stations and attend events where possible to promote safety and the services we provide.  
Business safety 

Kent Fire and Rescue Service can help businesses understand their legal responsibilities in relation to fire safety and their premises, and what is required. We offer advice on how to take precautions and minimise the risk of fire in the workplace or at events, and what businesses need to do to make sure they meet the legal requirements. 

We carry out fire safety inspections at business premises and check that businesses have carried out a fire risk assessment in accordance with their legal duty under the Fire Safety Order 2005. We also have a duty to enforce the order where necessary. 

To learn more about what we do, as well as help and advice, take a look at our Business Safety section
Road safety 

As well as visiting schools and colleges to provide road safety advice, we provide training courses for bikers. We also work closely with partners such as the Highways Agency, Kent County Council, Medway Council, Kent Police and South East Coast Ambulance Service to reduce the number of crashes, deaths and serious injuries on Kent and Medway's roads. 

From young drivers' safety to keeping your vehicle safe, learn more on our Road Safety page
Water safety 

Together with our partner agencies, we're committed to ensuring everyone in Kent is equipped with the information they need to stay safe around water. 

To learn more about what we do, and how to stay safe around water, take a look at our water safety section  where you'll find helpful advice, ranging from general water safety, to what to do if you see someone in trouble in water. 

 
Schools 

We are passionate about safety and saving lives through education. Our learning programme aims to build strong partnerships with schools and colleges across Kent and Medway.

We visit primary and secondary schools as well as offering firesetters interventions and providing hands-on, practical team-building sessions in small groups for young people who are not in education, employment or training. 

Learn more about our education programmes and work with young people
Our aim, vision and objectives
Our aim
To provide a wide range of services to our customers, whether in their homes, on the roads or out and about in the community, by assisting to bring about behaviour change and providing a high quality, rapid operational response.
Our vision
Helping everyone to be safer by working towards a future where no one is killed or seriously injured by a fire or other emergency.
Our objectives
Responding effectively in times of customer need.
Promoting behaviours which help you stay safe and well in your home.
Encouraging you to adopt behaviours which keep you safe on the roads.
Supporting businesses to help people to stay safe in their buildings and comply with legislation.
Helping you and the broader community to stay safe from harm caused by accidents, natural events or people intending harm. 
Learn more about our customer safety plan