KFRS celebrates Investing in Volunteers award
01 June 2022
Kent Fire and Rescue Service (KFRS) has been awarded the Investing in Volunteers (liV) quality standard, which recognises its commitment to ensuring volunteers have the best possible experience from the very start of their journey with KFRS. 
Kent Fire and Rescue Service (KFRS) is delighted to announce it has been awarded the Investing in Volunteers (liV) quality standard, in recognition of its commitment to volunteering. 
The celebrations also mark the start of national Volunteers' Week, which begins today (1 June).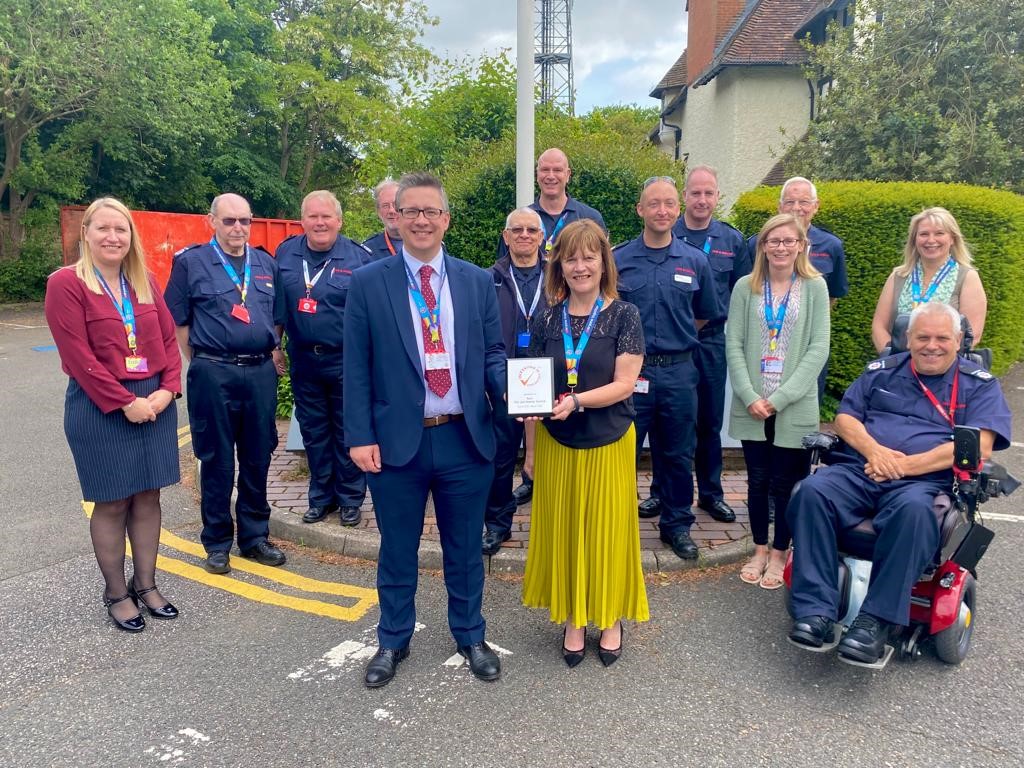 Throughout the process to achieve the accolade, KFRS worked with an IiV assessor to examine how it recruits, supports and manages volunteers, to ensure they have the best possible experience within the service. 
This included interviewing colleagues from within the organisation, as well as 21 selected volunteers who represent various roles and different lengths of service.
Following the final assessment stage, the award was officially presented to KFRS during a celebratory event on 26 May.  
KFRS' Director for Prevention, Protection, Customer Engagement and Safety, Jon Quinn, said: "This recognition and achievement demonstrates just how invaluable every one of our volunteers is to the service and the roles they play in helping us to create a safer future for Kent and Medway.
"The Investing in Volunteers Award not only highlights that we have all the right processes in place to support our volunteers and the great work they do, but it also and most importantly acknowledges that their experience with KFRS is first rate.
"We couldn't do what we do without them. This award truly recognises that KFRS is a great place to volunteer. Congratulations to our Volunteers Manager, Karen Grieves, and the team for the hard work in securing this award and here's to a great future and further successes."
In the report, assessor Bill Carr praised KFRS' 'One Team' ethos, which promotes unity across all departments, including its team of invaluable volunteers.  
He said: "I was really impressed with the 'One Team' ethos throughout KFRS. 
"This culture reinforces the fact that volunteering is genuinely valued as an integral part of the organisation. 
"Volunteering at KFRS provides a professional, carefully managed, and a well-resourced experience for everyone that participates." 
The volunteer team, which celebrated its 10 year anniversary in 2021, brings great skills and experience to benefit both KFRS and the public. Whether that's giving safety advice and raising awareness of the services they offer, or helping members of the public at their time of need.  
If you have any queries about volunteering for KFRS, or would like know more about the types of roles the volunteers fulfil across Kent and Medway, you can email volunteering@kent.fire-uk.org for more details.